Herne Bay Festival Now On!
Featuring for 2023 – Folk Festival, Baytastic, Herne Bay Carnival, Jazz Festival, Music, Fireworks and much, much more!
Each year we strive to support our community and improve the lives of those living within it. Even though the festival is a 5-week summer programme, many of the projects we support continue to be delivered throughout other times of the year.
Herne Bay Festival is for the advancement of the arts of music, performance, literature, visual arts and the education of the public in the culture and heritage of Kent, however, in recent times our focus has also been on supporting our community's mental & physical health and wellbeing and the growth of our community.
Our umbrella theme for 2023 is "Community In Mind" with a focus on the following areas:-
Food For All
Mental and Physical Health and Wellbeing
Herne Bay's Wider Community
Volunteering
The Environment Around Us
Energy Efficiency
We would love to hear from, and work with, local organisations that support any of these areas. Please contact us by clicking on the button below.
Calling all local comminty groups, organisations, venues etc.
If you'd like to get involved by staging an event for this year's festival, we'd love to hear from you!  Just fill in the form below and we'll be in touch!  We can't wait to hear your ideas!
Sponsorship opportunities
We have some great sponsorship opportunities available to suit all budgets all of which offer excellent potential to grow local brand recognition and show you're supporting our town.  Email hernebayfes[email protected] for more information or fill in the form below.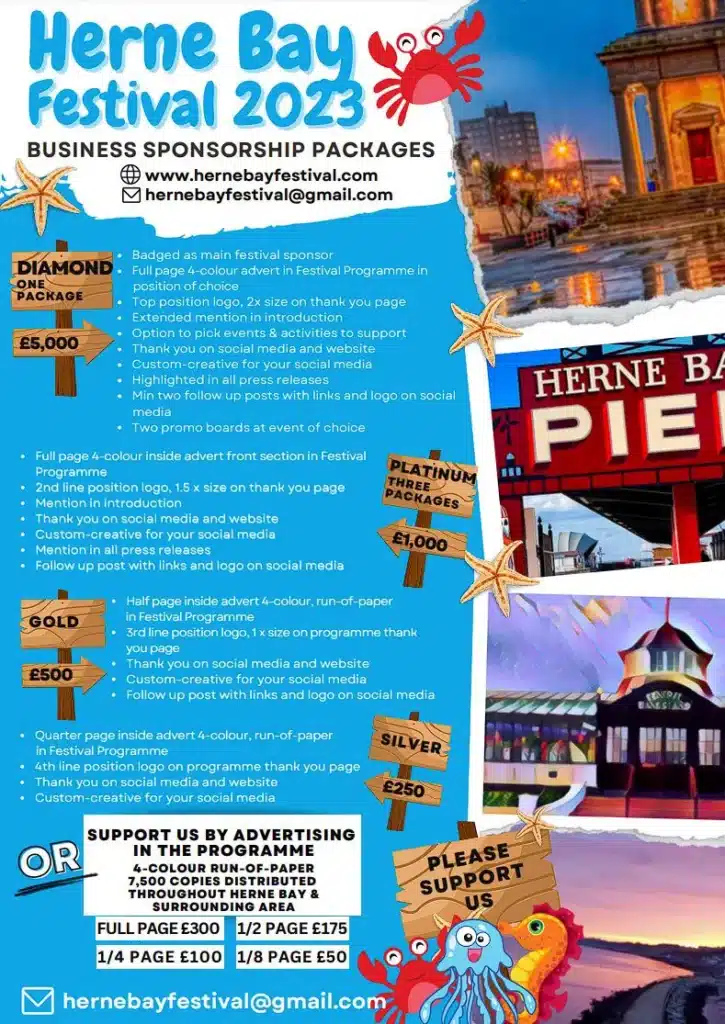 2023 Events will be added soon - watch this space!
We'd love your feedback on this year's festival
{{ reviewsTotal }}
{{ options.labels.singularReviewCountLabel }}
{{ reviewsTotal }}
{{ options.labels.pluralReviewCountLabel }}